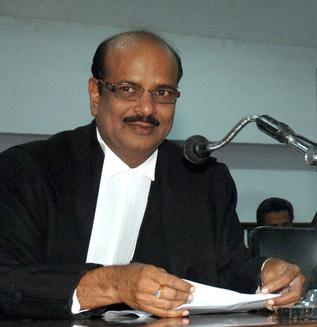 The Supreme Court panel, constituted to probe allegations against Sikkim High Court Chief Justice P D Dinakaran, has accused him of deliberately delaying the inquiry into the land grabbing case and judicial misconduct.
Justice Dinakaran is facing impeachment proceedings on the charges of corruption and land grabbing. He is due to retire in May next year.
The panel, headed by Justice Aftab Alam, yesterday rejected his application demanding that senior counsel P P Rao should be removed from the panel as he was a member of delegation, who met then Chief Justice of India K G Balakrishnan against his elevation to the Supreme Court.
Two members of the panel, while rejecting his application, said Justice Dinakaran was wasting the time of the panel with the aim of deliberately delaying the inquiry against him as the panel has to submit the report by June 23 this year.
The panel, which includes Karnataka High Court Chief Justice J S Khehar, also rejected another application filed by Justice Dinakaran for supply of documents. It ruled that the charges have already been supplied to him and granted him a day's time to file his response to the charges. The panel will proceed with the inquiry tomorrow.
The panel also told Mr Dinakaran to uphold the sanctity of the high office he is holding and co-operate in the inquiry.
Justice Dinakaran, whose elevation to the apex court was put on hold after the allegation came to light, was shifted from Karnataka High Court to Sikkim High Court.