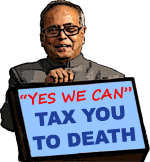 In a relief to advocates across the country, the Delhi High Court today stayed a Central government notification levying service tax on practising lawyers.
"The notification is stayed," a Bench comprising Chief Justice Mr Dipak Misra and Mr Sanjiv Khanna said, on a petition by Delhi High Court Bar Association (DHCBA) challenging the Centre's notification.
The Bench also issued notice to the Union government on DHCBA's plea and asked it to file its response within two weeks. The next hearing has been fixed for 23 May. The government had on 25 April notified the Legal Practitioners Bill, 2010 for imposing 10 per cent tax on the fee charged by lawyers for their legal services. The Bill was to be implemented from 1 May.
Lawyers in the Delhi High Court and all the six Delhi districts courts had observed a day-long strike on 24 March, when the Bill was passed in the Parliament, to protest the finance Bill proposing levy of 10 per cent tax on the fee charged by them for rendering legal services to their clients.
Delhi Bar Association president Mr Rajiv Khosla had said lawyers are against imposition of service tax on their profession and on services rendered by them to the firms and companies, besides the services given by legal firms to individuals. "Instead of imposing 10 per cent service tax on lawyers, the Centre should make efforts to stop corruption," Mr Khosla had said.